I'm feeling inspired to share some of my "Best Ofs" for this past year. I'll start with books!



The fiction novel, "Freshwater" by debut author Akwaeke Emezi was such a thrilling story and imaginative concept, delightfully disorienting. What if several gods took up residence in one person - what would that do to their actions? It's about the inner life of a Nigerian woman, Ada. Mysterious and mystical, this book lingers with me still, months later.



I'll read anything by the formidable Jesmyn Ward, but "Sing, Unburied, Sing," gives me chills just remembering the ending. This fictional account of a family in rural Mississippi on a fateful road-trip. As the family drives to retrieve the father from the local prison, the teenage boy encounters a ghost that only he and his gifted baby sister can see. Ward's fascination with the way the living and the dead interact is gripping, and fuel for page-turning.

Elena Ferrante's fictional Neapolitan series, which starts with "My Brilliant Friend," was recommended to me by my friend Niki and is confusingly addicting. We've both discussed how strange they are to read - how intricate and detailed. And how they shouldn't be so interesting, this account of a decades-long friendship between two girls from Naples, but it is. I'm finishing up the fourth novel now, eager to see how it will all wrap up. What I like about the series is how she shows the complexities of life as a woman and her relationships. It's also highly entertaining AND is now an HBO series (though, of course, the books are so much better because of the richness and timber of Ferrante's voice).


Now for the non-fiction/memoir: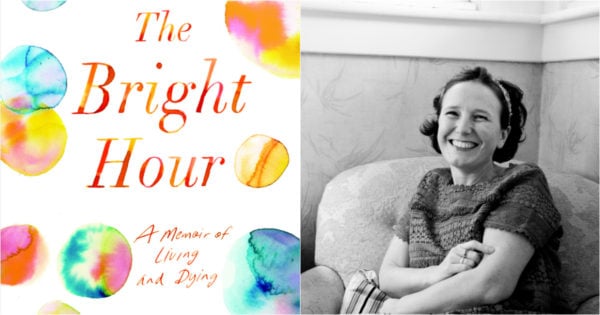 Nina Rigg's "The Bright Hour" will leave you utterly undone. She wrote it from the time she was diagnosed with cancer to just weeks before she passed. Riggs is an artist, masterfully crafting some of the most tragic happenings with a killer sense of humor, profound depth of insight and intelligence, and admirable restraint - it would be so easy to rant and rage, with every right to do so, but she doesn't. I wept when I finished, and not just because she died, but because it was such a deeply beautiful book and an example of how impactfull I want my own book to be. A favorite passage of mine:

"I am reminded of an image...that living with a terminal disease is like walking on a tightrope over an insanely scary abyss. But that living without disease is also like walking on a tightrope over an insanely scary abyss, only with some fog or cloud cover obscuring the depths a bit more."

And another:

"For me, faith involves staring into the abyss, seeing that it is dark and full of the unknown—and being okay with that."





"The Shame of Loosing," by my friend and local author Sarah Cannon just came out and I devoured it! This is the account of Cannon's living through her ex-husband's traumatic brain injury - back when they were in their early 20s and had two small children. What could easily be a rant by a woman put upon by shitty circumstances is in fact a thoughtful and introspective journey that I loved reading.






"California Calling," by my very-dear friend (and mentor, but shh! don't tell her), Natalie Singer, surprised me. I mean, she's my friend (I'm lucky because I'm in a writer's group with both Singer and Cannon), so I am going to like it - but it is a fascinating piece of art that I wasn't expecting to find so thought-provoking. Here's my Goodreads full review:


California Calling: A Self-Interrogation by Natalie Singer
My rating: 5 of 5 stars

"Every time I open my mouth in public to speak, it feels like I am on a witness stand. My chest tightens and my heart crawls up my neck. Even when I'm asked something as simple as my name, it seems like I'm being asked to account for everything that is."

When the narrator was 16, she was asked to testify in family court and she found herself totally mute. This is a pivotal moment in her life, the losing of her voice. The book takes the reader through the beautiful, confusing, complex journey of Singer finding that voice all over again.

I marvel at how Singer was able to see into her memory with almost shamanic magic, reclaiming the soul and spirit of the moments, in addition to the details. She had no fantastical events in her life from which to draw on, but her life, like every human life, is fraught with story and rich in curiosity. Finding the magic when looking back at one's own life is so hard to do - and she inspired me to do the work of forcing a re-frame. How Singer knows what her reader will find interesting is part of her sneaky greatness.

Singer feels almost tangible. She appears before me clearly; sometimes I am her. I'm sweating on that hike in the desert when her boyfriend randomly sits down in an old, used chair and wants to reclaim it; I'm in the car during conversation she had with a California ranger in the moment where she reclaims her voice; I'm a witness on the street when she faces off with the bitch in the car who won't concede. Singer's meditative pace is a joy - in her subtle capturing of the mundane and infusing it with color and movement, not unlike a painter would paint. Not unlike standing in front of a work of art at a museum. There is so much more than we are seeing, and we know it.

The form also excites me; reminiscent, I think, of the artistry and genre-bending form ala Lidia Yuknavich's The Chronology of Water or Abigail Thomas' Safekeeping: Some True Stories from a Life.

The language is sometimes poetic in lyricism, other times journalistic in concision. And while it feels like a gentle read, Singer's searing intelligence and the things she does not say…they cut deep. A gentle cutting, I suppose - but Singer has enough love for her fellow human to sew them back up again in the end. Instead of bleeding out, we close the book with a gift: an invitation into deeper introspection, nostalgia, and sweet little wisps of our own life's story-ghosts.

_____________________


What are your best books of 2018?
p.s. I've linked all the books to Powell's, in the hopes that if you purchase - you'll buy it used, and hopefully from an independent bookstore. I'm trying to wean myself of the convenience and monopoly of Amazon.com - and books are the easiest way to do that. Let's spread the love to the little bookshops.